Nowadays, development aid can be so easy! That's our motto at MADE IN BANGLADESH e.V. There are so many ways you can support our organisation to reach its goals. We plan to share some of the with you in this blog from time to time.
Flea markets: Turn "old" into help!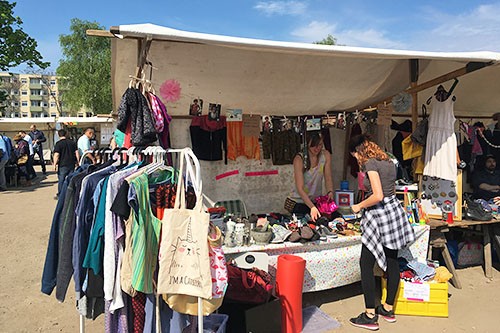 Elisabeth, one of our founding members, recently sorted out her wardrobe and took the clothes she no longer wanted to the weekly flea market at "Mauerpark" in Berlin. It's one of the largest in the city, and well visited by locals and tourists alike. You can find almost anything here: Antiques, clothes, turkish sweetmeats, or even Karoake in the afternoon – a great venue for having a pleasant time and meeting people.
What inspires us about flea markets is that things which someone no longer needs give joy to someone else, and find usage anew. Isn't that a lot better than just throwing them away?
So Elisabeth not only used the day to get rid of what was too much in her wardrobe, she did something for others at the same time: The others who were glad to buy her items, and the villagers of Sakrail in Bangladesh. She not only donated 20% of her earnings to the organisation, she also put out our postcards to draw attention to our projects, and was able to speak to a lot of people about our work, for which there was a lot of positive feedback.
Development aid can be so easy and so much fun at the same time!
When will you start your first action for MADE IN BANGLADESH?
Just send us an E-Mail if you have any questions. We look forward to hearing from you!